To learn about Camaro Trim Tag decoding for specific years click on the link below for the desired year.

1970 Camaro Trim Tag Identification and Decoding
In 1970 Chevrolet made a couple of changes to the trim tag in both location and information that was included on the Camaro trim tag. First and foremost the tag was moved from its 1969 location on the firewall to the upper cowl area under the hood on the drivers side behind the hood hinge as indicated in the image below.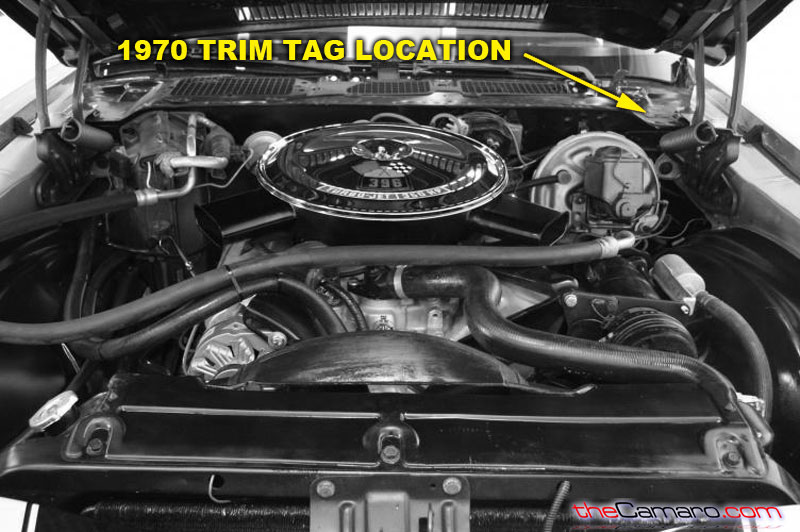 The trim tag itself also changed slightly from its 1969 counterpart. Whereas the 1969 trim tag had an X Code the 1970 Norwood built Camaro trim tags now for certain options used the RPO (Regular Production Order) code instead so for example a Camaro equipped with the SS 396 L78 375hp engine would have L78 clearly marked on the trim tag. The Los Angeles built cars would still not receive identification of individual RPO codes but instead would carry two internal codes that were 6 digits long each.
Example of 1970 Camaro Norwood Ohio Trim Tag

Sample 1970 Camaro Los Angeles, California Plant Trim Tag.
When it comes to decoding 1970 Camaro trim tags it is pretty straight forward like the 1969 tags. In the case of the RPO codes that were added to the tags for 1970 some codes in particular the RPO Z27 SS 350 code is hit or miss with more misses than anything else in 1970. On the Los Angeles trim tags like earlier years the two sets of six digit codes are internal plant codes. We have several pretty well founded theories on exact usage and decoding of these codes but at this time it is not supported by enough evidence to post here. In the future once more research has been done we will add this information to the decoding section here.
Listed below is information that will help you understand more about your trim tags option codes and what they mean. For more information on the RPO's listed here or for a complete list of all available RPO's for 1970 please visit the RPO/Pricing section under the production tab.
Name

Description

MONTH

Two digit code referring to the calendar month that the vehicles body was scheduled for production. The two digit number is indicative of the calendar month. Example 01= January, 05= May, 12= December.
Single alphabetical digit indicating the week of production for the calendar month. A= 1st week, B= 2nd week, C=3rd week, D= 4th week, E=5th week.
70= 1970

Body Style

12487: Sport Coupe.

Assembly Plant

NOR: Norwood, Ohio
L: Los Angeles, California

Fisher Body Number

Individual Body Sequence number assigned by the Fisher Body plant prior to production of the vehicle.
Internal Code
Internal plant code used at the Los Angeles, Ca. assembly plant.

Interior

710- Sandlewood Standard bucket seat interior.
711- Black Standard bucket seat interior.
712- Black Custom Vinyl bucket seat interior.
713- Black with White pattern cloth bucket seat interior.
714- Black with Blue pattern cloth bucket seat interior.
715- Standard Blue bucket seat interior.
716- Blue Knit Vinyl bucket seat interior.
720- Black with Green pattern cloth bucket seat interior.
723- Dark Green standard bucket seat interior.
724- Dark Green Knit Vinyl bucket seat interior.
725- Black pattern cloth bucket seat interior .
726- Saddle Standard bucket seat interior.
727- Saddle Knit Vinyl bucket seat interior.
730- Sandlewood Knit Vinyl bucket seat interior.

Lower Body Paint Color

GM Code
Ditzler
DuPont
10- Classic White
WA3465
8631
5040L, 5040D
14- Cortez Silver
WA3927
2059
5032L, 5032D
17- Shadow Gray
WA3592
32604
5113L, 5113D
25- Astro Blue
WA4026
2165
5123L, 5123D
26- Mulsanne Blue
WA4069
2213
5190L, 5190D
43- Citrus Green
WA4006
2170
5126L, 5126D
45- Green Mist
WA4025
2171
5122L, 5122D
48- Forrest Green
WA3970
2173
5116L, 5116D
51- Daytona Yellow
WA3893
2094
5026LH, 5026D
53- Camaro Gold
WA4035
23211
5073LH, 5073D
58- Autumn Gold
WA3973
2179
5117
63- Desert Sand
WA4042
2183
5125
65- Hugger Orange
WA3959
2084
5021LM, 5021DH
67- Classic Copper
WA4033
23215
5076LH, 5076DH
75- Cranberry Red
WA3975
2189
5063LH, 5063DH
Stripe/Pinstripe color
White
WA3465
8631
5040L, 5040D
Black
WA0848
9300
1738, 40423

Upper Body Paint Color

For single color vehicle (upper and lower paint match) refer to the lower body color chart.
A- White vynil top
B- Black vinyl top
C- Dark Blue vinyl top
G- Dark Green vynil top
H- Dark Gold vynil top
RPO Code
Description
L34
RPO L34 Camaro SS 396, 350hp 396cid engine.
L78
RPO L78 Camaro SS 396, 375hp 396cid engine.
Z27
RPO Z27 Camaro SS 350, 300hp 350cid engine. This code does not apear on all SS 350 Camaros built in 1970.
Z28
RPO Z28 Camaro Z28, 360hp 350cid engine with no hood or decklid striping..
Z28.10
RPO Z28 Camaro Z28, 360hp 350cid engine with white hood and deck lid stripes.
Z28.19
RPO Z28 Camaro Z28, 360hp 350cid engine with black hood and deck lid stripes